Need Advanced SDI Tools for ArcGIS?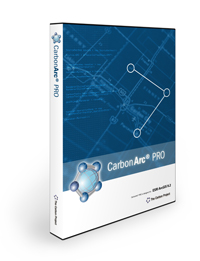 CarbonArc® PRO eliminates barriers to SDI usability by providing advanced discovery, analysis and interaction tools for the OGC® Spatial Data Infrastructure (SDI) baseline - directly from the ESRI ArcGIS 9.2 desktop
By plugging into ArcGIS, CarbonArc PRO lets you use any OGC Web service and data as an integral part of the GIS - including WMS, WFS, WFS-T, WCS, Filter Encoding, Gazetteer, GML, GMLsf and CS-W.
CarbonArc PRO was developed with CarbonTools PRO, an extension to the Microsoft .NET Framework for advanced location content handling, mapping and sharing.
If you have any questions about CarbonArc PRO, please contact info@TheCarbonProject.com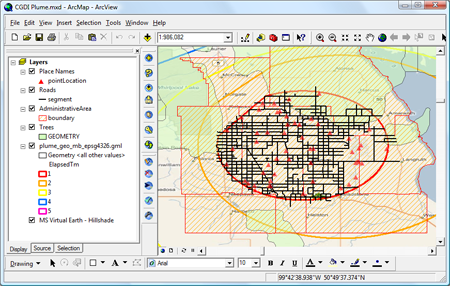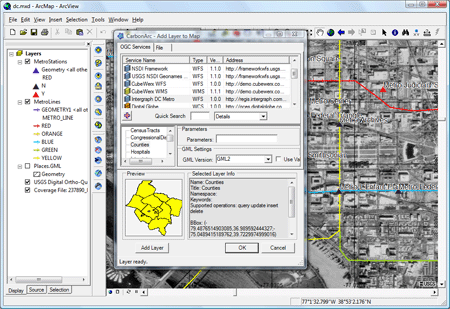 Downloads
Download a Free Evaluation Now!
Download the Free User's Guide!

Links
CarbonArc for Government Users
Article - SDI 1.0: GEOINT Revolution
Learn about Gaia
Learn about CarbonCloud
CEO Blog
The Carbon Project on YouTube
Features
Deep support to Open Geospatial Consortium (OGC) Spatial Data Infrastructure (SDI) 1.0 standards
OGC Web Map Service (WMS) and Web Coverage Service (WCS) support including dynamic layers that keep updating when map region changes
OGC Web Feature Service (WFS) 1.0 and 1.1 with dynamic layers, sophisticated feature caching mechanism and deep multi-vendor support
Advanced tools for WFS-Transactional (WFS-T) allows editing features, bulk transactions and support for complex feature editing (point, line and polygons in one feature)
Advanced Transaction Management tools to intelligently create editing tools from any vendor source
Uses Geography Markup Language (GML) 2, 3, Simple Feature and other profiles
Export GML to Shapefiles tools and Export and save GML functions
Symbology engine for complex GML features, including rendering by GML attributes, GML labeling tools and more
Filter Encoding (FE) support for WFS allows SDI Analysis functions, including complex logic and geometry-based spatial queries and filtering
Use OGC Catalog Service for the Web (CS-W) to explore catalogs (e.g. Red Spider and CubeWerx), including flexible template-based tools
Supports password protected services
Includes Secure SDI token-based security using CubeWerx IMS technology, the most powerful geospatial security framework in the world
Embedded layers in the MXD file allows saving and working offline with OGC services
Extensibility for advanced SDI tools
Much more...