CarbonCloud Sync
In an effort to embrace a new age of transparency and collaboration government agencies are turning to technologies that promote crowd-sourcing and Geosocial Networking. The Carbon Project's CarbonCloud Sync provides the perfect Geosocial Networking platform for government collaboration through interoperability and open standards, while maximizing existing GIS investment.
CarbonCloud Sync uses open standards supported by all major geospatial vendors including ESRI, and validates, disseminates and synchronizes updates from many sources to many databases. Counties, states, and federal agencies can now improve their efficiency, cut red-tape, and reduce data gridlock while maximizing GIS investment. The CarbonCloud Synch platform can be hosted on the Microsoft Azure Cloud, reducing IT expenditures.
Contact us today at info@thecarbonproject.com to learn how CarbonCloud Sync can help your organization achieve new levels of transparency and collaboration.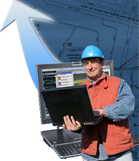 Gov 2.0 – Transparency through Interoperability and Crowd-Sourcing
With the CarbonCloud Sync platform, citizens can submit updates and reports to local and national GIS, while professionals can use GIS such as ESRI ArcGIS. Geographic updates are then validated and easily coordinated with other localities, federal agencies, or civilian and commercial organizations.
The CarbonCloud Sync system leverages common interoperability standards from the Open Geospatial Consortium (OGC) supported by most commercial-off-the-shelf (COTS) GIS, including ESRI ArcGIS Server. The platform integrates with existing systems and processes in a non-disruptive and cost-effective manner. CarbonCloud Sync's use of interoperability and open standards promotes a new level of transparency and collaboration to all levels of the government.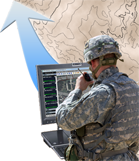 Defense & Intelligence - Geospatial Collaboration through Interoperability
CarbonCloud Sync provides a flexible platform for data collection from multiple GEOINT sources. Based on open standards for interoperability, CarbonCloud Sync validates and disseminates geospatial updates throughout federated services, capturing in-house, co-producer and open-source updates at the same time. Existing GIS infrastructure may be further enhanced with tools for non-GIS professionals, including mobile phones, enabling geo-referenced updates from the field directly to fusion centers
Using sophisticated data processing algorithms, CarbonCloud Sync enables seamless integration with civilian, federal and international agencies, bridging vendors, platforms, and data schemas. CarbonCloud Sync's use of interoperability and open standards provides the perfect platform for multi-source GEOINT collection and production while maximizing existing GIS investment.
* CarbonCloud Sync is available now on GSA Schedule as part of the Gaia GIS Extender Multi-Function suite.
Downloads
For Gov 2.0 (PDF)
For Defense (PDF)
For Intelligence (PDF)
Links
CarbonCloud Sync TechOverview
Learn about Gaia
Learn about CarbonCloud
CEO Blog
The Carbon Project on YouTube