CarbonCloud Sync Technology Overview
CarbonCloud Sync is a Cloud or Web-hosted service that allows synchronization of geospatial content across a federated deployment of services. The system can use any existing deployment of Open Geospatial Consortium (OGC) Web Feature Services with transactional capabilities (WFS-T).
The CarbonCloud Sync system is vendor neutral and bridges services from ESRI, Intergraph, ERDAS, CubeWerx, GeoServer and others; providing true geospatial interoperability to any organization or community. CarbonCloud Sync includes advanced Gaia Extenders to support feature editing and synchronization, as well as a service-driven automated process that keeps registered WFS-T up to date with changes and updates.
The CarbonCloud Sync system supports three types of end-users: Publishers, Reviewers, and Followers:
Publisher - The Publisher is in charge of making changes to content. This person or system generates feature changes, using a mobile or desktop application, and submits them for review or immediate dissemination (depending on the system configuration). The changes include adding, deleting, or updating features. The changes are then submitted to the CarbonCloud Sync service. When a change is accepted or rejected the Publisher is notified via a Resolution GeoRSS feed. In case of a rejection the Publisher can correct and adjust according to the Reviewer comments. A Gaia CarbonCloud Sync Extender enhances the Gaia WFS-T Extender with the appropriate functionality thus streamlining the publishing process and making full use of Gaia's powerful editing and transaction tools.
Reviewer - The Reviewer is a person or system that has the authority to approve changes submitted by Publishers. The Reviewer is subscribed to a Change GeoRSS feed from the CarbonCloud Sync service. This feed allows the Reviewer to monitor only changes of interest (specific server, specific layers, region etc.). When the Reviewer receives a change, he can then use the Gaia CarbonCloud Sync Extender to review the change and declare it as either 'accepted' or 'rejected'. The CarbonCloud Sync service will automatically disseminate accepted changes to any registered Web Feature Services via standard WFS-T transactions.
Follower - A Follower can use standard RSS reader to get updates on any desktop or mobile device. When changes to a server are accepted the CarbonCloud Sync service announces them to the appropriate Followers via the customizable (through a RESTful API) Replication GeoRSS feed. A Follower subscribed to these event notifications will receive the appropriate updates in the form of RSS or GeoRSS entries.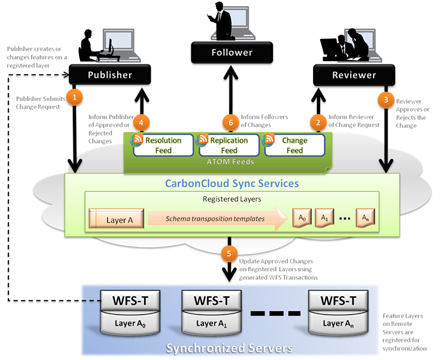 Downloads
For Gov 2.0 (PDF)
For Defense (PDF)
For Intelligence (PDF)
Links
CarbonCloud Sync Overview
Learn about Gaia
Learn about CarbonCloud
CEO Blog
The Carbon Project on YouTube
Features
Vendor Neutral SDI - CarbonCloud Sync is designed to work with any WFS-T. Use services from ESRI, Intergraph, ERDAS, CubeWerx, GeoServer and more.
ESRI ArcGIS Server 9.3 - CarbonCloud Sync supports ESRI WFS-T using ArcSDE and ArcGIS Server 9.3.
Gaia Client Tools - The Gaia WFS-T Extenders are automatically enhanced to support the CarbonCloud Sync update operation.
Shapefiles to Transactions - automatic processing of Shapefile based edits into geo-synchronized updates disseminated to any synched GIS.
GeoRSS Events - Changes and notification are published to a GeoRSS events feed that can be adjusted to the reader needs using simple query parameters.
Schema Transposition - CarbonCloud Sync can handle synchronization between different services even if the target layer schema is not 100% compatible with the source.
Open Standards - All the inputs and outputs of CarbonCloud Sync are driven by OGC standards and ATOM RSS.
Auto WFS-T Update - Registered WFS-T will be appropriately updated with approved changes automatically from the CarbonCloud Sync, the changes are reported via a GeoRSS feed.
Security and proxy tools - CarbonCloud Sync supports proxy configurations and a variety of security layers.